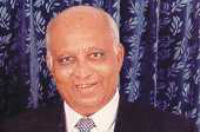 Adv. R. B. Bohora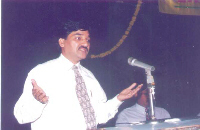 Chief Guest From the
US Consulate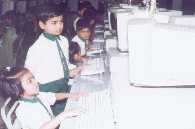 Students in Computer lab
Co-ordinators:
Philadelphia, USA office:
Mrs. Leena Kothari MCM, MBA
Stamford, USA office:
Mrs. Manisha Bohora M.S.(USA)
Era English School was founded by the Founding Trustee, Mr. Ratanlal B. Bohora, Advocate, a successful lawyer who has played instrumental role as the office bearer of leading educational institutions. He is a proud father of three children who have earned their higher degrees from the USA. Mr. Bohora had a vision of a "Dream School for the 21st Century". His vision got crystallized after his study tours to the USA. During his visits to the premier academic institutions of the USA, he observed the state of the art infrastructure of the academic institutions, the latest high technology tools provided to the students and the competitive environment provided by their schools. He realized very strongly that the students of India also deserve the same "environment" to be able to compete against their counterparts in the USA. He came back to India and the "New Era" emerged....
New Era English School is here with a vision to enable students and their parents to have dreams and provide the tools and environment to materialize them.
Vision
The school wishes to broaden the overall perspective, train the mind and soul and develop a multi faceted personality. It is committed to impart values of high standards to its students which will make them better "citizens of the world" in the 21st century. Ability is what you are capable of doing, motivation determines what you do and attitude determines how well you do it. At New Era, we develop the attitude .. the attitude for success!
Chairman of the Trust:
Adv. Ratanlal B. Bohora, B.A. LL.B.
Managing Trustee:
Mr. Ajay R. Bohora, B.E., MBA(USA)
Advisory Board
Adv. Manish Baste, Ex. Deputy Mayor, Nasik City
Dr. Pratap Wagh, Ex. M.P., Social Worker
Dr. Vijay Ghatge M.D., Director, Life Line Hospital
Mr. D.S. Kulkarni, Secretary Nasik Education Society
Mr. Anil R. Bohora, B.E. M.S. (USA)
Dr. Mangalgiri, Ph.D., Ex-Professor, Oxford Brooks Univ. (U.K.)
Mr. Suresh Kale, Labour Consultant, Social Worker
Mr. Amit Bohora B.E., Industrialist